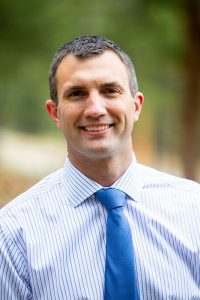 When I tell people about how much I enjoy my work as a dentist, I get looks of surprise. However, I find enormous satisfaction in what I do. It is not just the intriguing technical, surgical and scientific aspects of dentistry that I love: It is the unique personal relationships I experience every day. Dentistry really is incredibly personal. My patients place a lot of trust in me. I work every day to live up to that trust and make them feel as comfortable, safe and well informed as I possibly can.
It is not just about your teeth — it is also about who you are and how you feel when you are in my chair. Every patient has different needs, preferences, goals and concerns, and every treatment plan needs to address those differences. I work to treat the whole person, and that means making my patients full partners in decisions about their care, providing them with the best possible information on all the treatment options that are available and listening carefully to their questions and concerns so that they feel fully vested in the process and outcomes. I want my patients to have the best possible dental care, and good outcomes depend not just on my skills and tools as a dentist but also on how well I communicate with and listen to my patients.
My roots are in Northern Colorado, and my wife, a teacher at Conifer High School, grew up on the Western Slope. Both of us are proud to serve the state we love, and our two young boys and new little girl fill our lives with noise and laughter. When we are not working, you will find us doing what we love most, which includes spending time together and taking advantage of all the things this great state has to offer. We love camping, fishing, hiking, biking, playing sports or cheering on our home teams.
Credentials & Certifications
DDS: University of Colorado School of Dental Medicine, 2016
Engineer-in-Training (EIT) certificate, State of Colorado, 2012
BS: Biochemistry, University of Northern Colorado, 2006
Pankey Institute for Advanced Dental Education
Pierre Fauchard Academy Certificate of Merit Award
International Congress of Oral Implantologist Predoctoral Student Achievement Award
American Association of Oral and Maxillofacial Surgeons Dental Implant Award
Member: American Dental Association®, Colorado Dental Associations, Metro Denver Dental Society
Inter-Canyon Fire Protection District Volunteer
Meet Our Team
Our team is talented, caring and so good at what we do. We are here to help you find your most ideal smile! We find great satisfaction in giving each patient a smile that makes them feel more confident, happy and secure in their appearance. Please call Incline Family Dentistry, PLLC today at 303-985-1615 to schedule an appointment with our dentist, Dr. Travis Barr, and learn more about dental care in Lakewood, Colorado.
Check back soon to meet our team!


Oakley
Oakley hangs out at the office sometimes and everyone loves him.